MY PAINTING PROCESS...
Viewers might ask…
How do I do it?
Where do ideas come from?
It is hard for me to explain…I really do not know.
There is no fixed plan and no prior sketches.
I just begin by making marks.
Pictures emerge from the random marks. The painting evolves as I work.
As the painting progresses I might make colour changes. I add layers, take parts away or make new marks. I rely on my feelings and let the painting 'speak' to me. Knowing when to stop is the hard part.
Mixing colour and sculpting the thick, luscious oils has become the focus of my work. I love the 'journey' and when I make a painting I never really know the outcome in advance. The element of surprise is appealing as the surface changes along the way.
Some take weeks of scraping back and changing course whilst others come together quickly without too much stress. More often there is a battle of wills as I fight the canvas for an acceptable outcome but these challenges keep me focused and prevent complacency.
Here are some recent paintings in the workshop...

'Unseen Journeys'
Lines and shapes, scribbles and smudges.
A loud and quiet conversation in this piece.
Oils and cold wax medium on 16 x 20 inch canvas

'Taking a less travelled path'
This picture has journeyed a long way. Time after time I thought it was resolved but no. Then I took parts away and the spaces left relaxed the image. It has reached a destination.


Oils and cold wax medium on 24 x 36 inch box canvas.
I have reworked this painting...adding darker blue for more impact.
After turning it around, this aspect appears to give an impression of light, partly hidden.
It is currently being re-worked.
Oils and cold wax medium on 24 x 24 inch canvas.

'Turn up the heat'
A trio of oil studies on 12 x 16 inch Arches Oil Paper
The large one could be framed separately or left as it is viewed here.


It is currently in a black float frame.

Oils and cold wax medium on 12 x 16 inch Arches Oil Paper
Layers of paint, scribbles and scrapes to make a 'collage' of oils.

This picture can be framed whole or cut into 6 individual studies.


Bright and cheerful...the colours of a summer garden.
Currently in a white float frame.
'Four of a kind'
Little abstract studies.
I used masking tape to divide the paper into little squares. It's always fun to pull it off and see what is revealed.
Oils and cold wax medium on 12 x 12 inch Arches oil paper.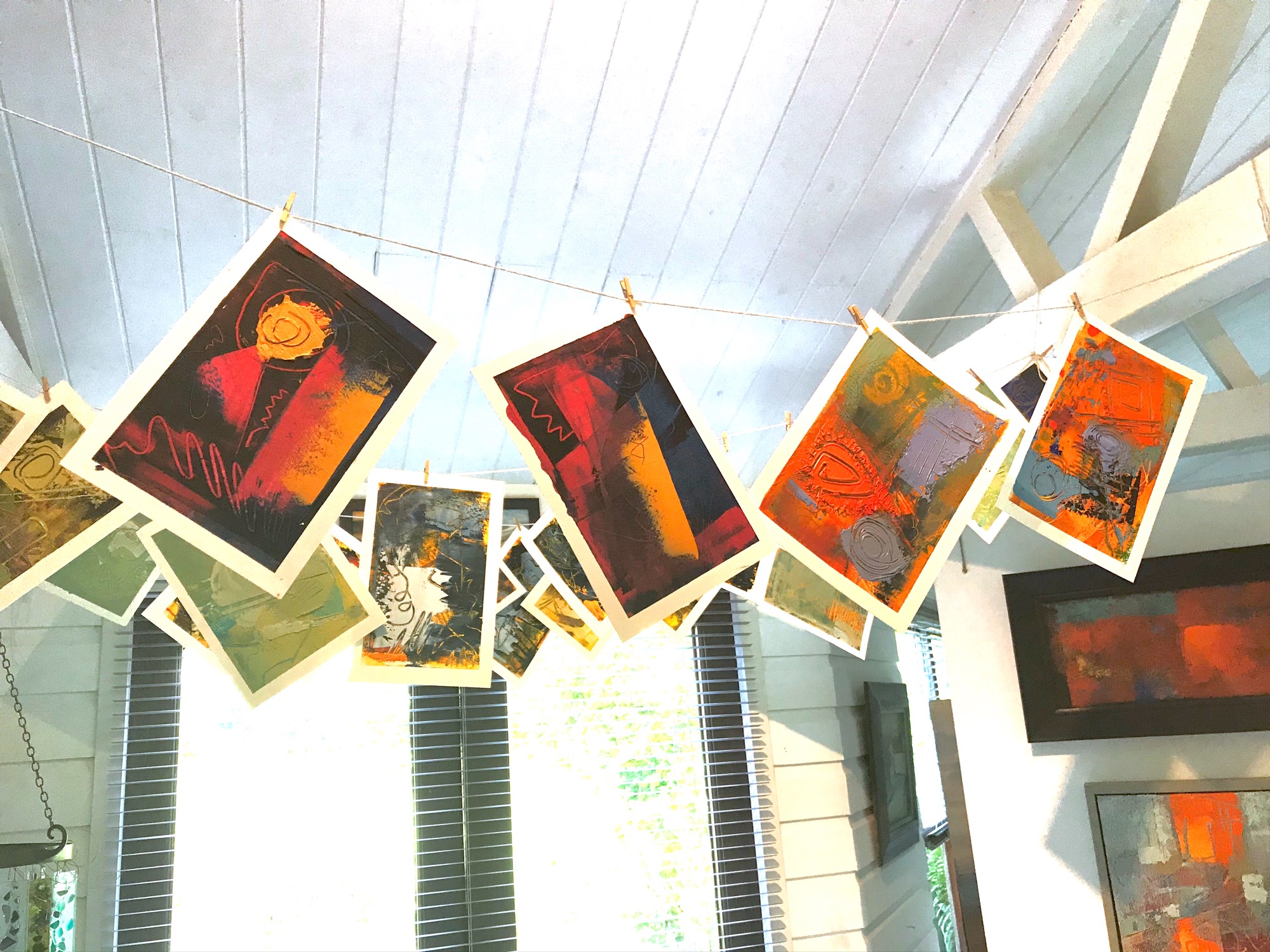 Small studies on Arches oil paper on the drying line
CLICK ON THE PICTURE BELOW TO SEE MY AVAILABLE OIL PAINTINGS.
Framed works on canvas & panel are from around £ 200 - £ 1950
All images are the property of the Artist
Copyright © Anne Wood 2020