MY STUDIO HAS CLOSED NOW UNTIL SPRING 2022...
I hope to open my Wild Garden Studio again next year. I like showing visitors around and catching up with some art chat. In the meantime, I shall post my new work here.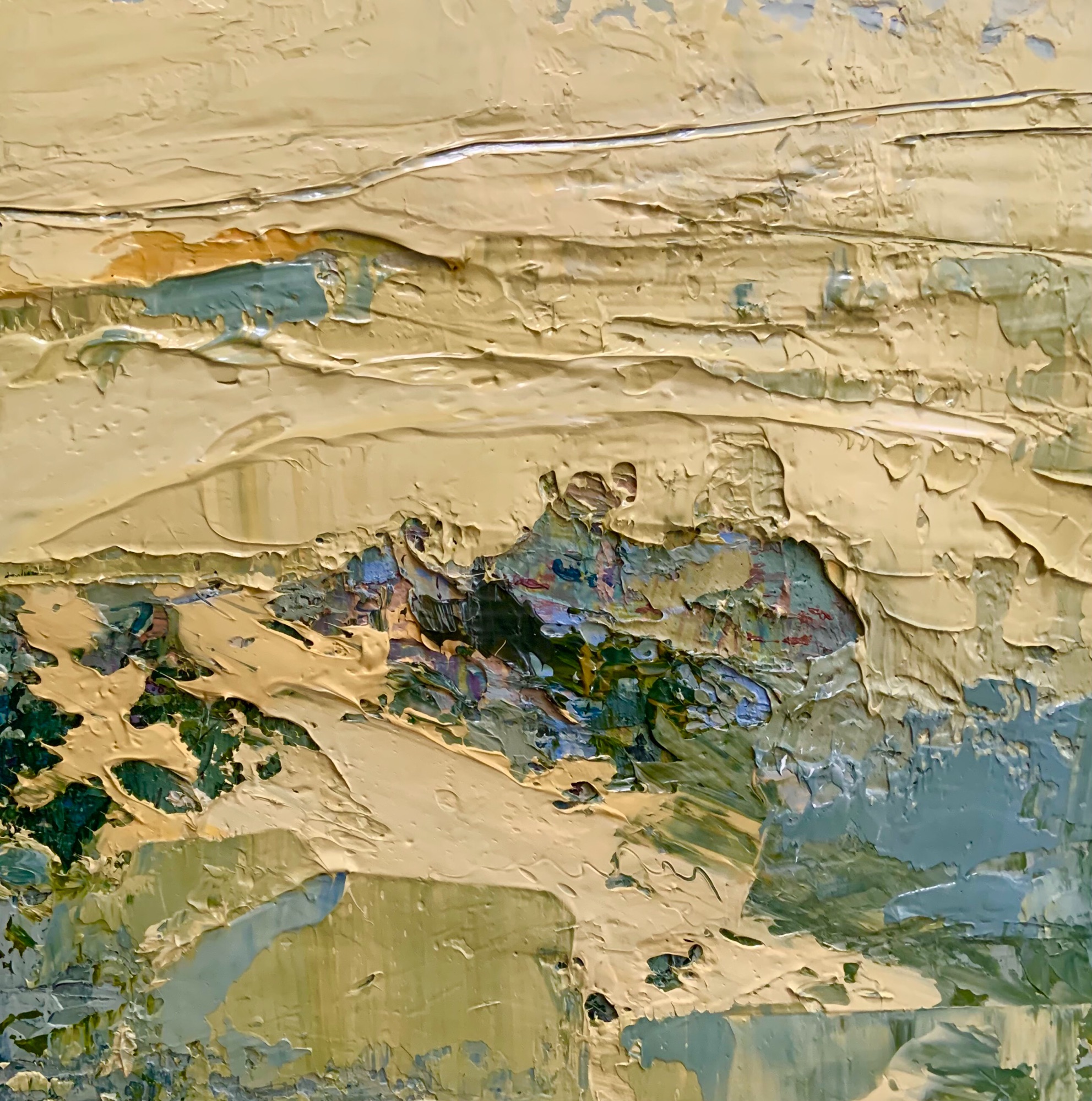 'Early Riser'

This is a reworked picture...and it's been on a long journey through many changes. It is now very heavy with the layers of oils and cold wax. Fragments of history are revealed here and there. It's almost a sculptural piece.
On a 12 x 12 inch box canvas, this work is reminiscent of sandbanks and wet marshland on the Lincolnshire coast. When the tide goes out there are pools and lush wet grasses.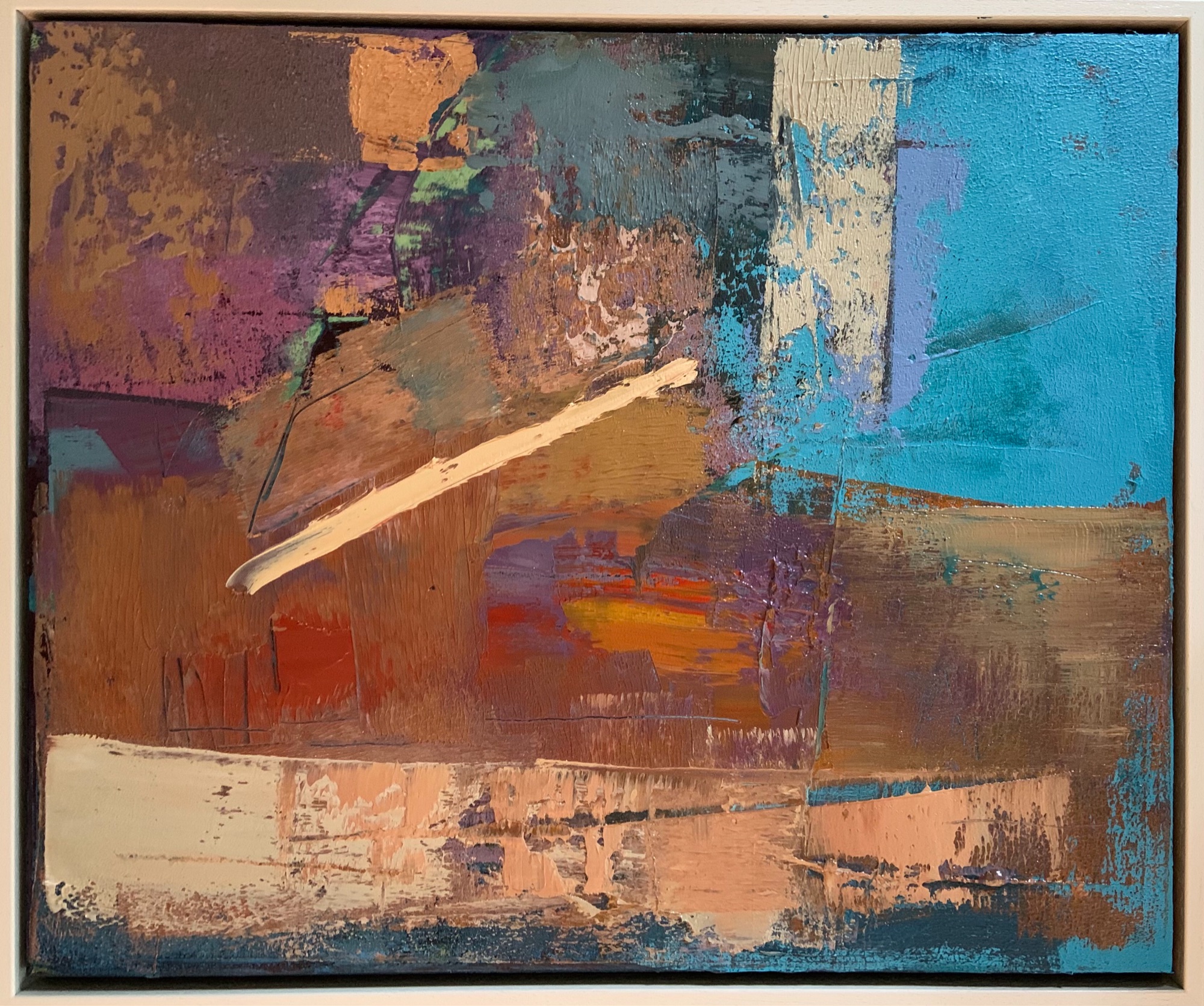 Recently I finished this painting. Unsure of where to go with it the canvas had been sitting in the studio for a few months. Suddenly I had the urge to move it on and began working.
My choice of colours were possibly influenced by the autumn colours in my wild garden. Grasses, tangled undergrowth and flowers have found their way into the composition.
I reached a stage when it seemed best to stop painting...that's always difficult as the temptation to fiddle can be strong. The next day I was pleased I did, as I really like this piece.
I have titled it ' Happy Ending'. It is a 20 x 24 inch box canvas in an off-white wood frame.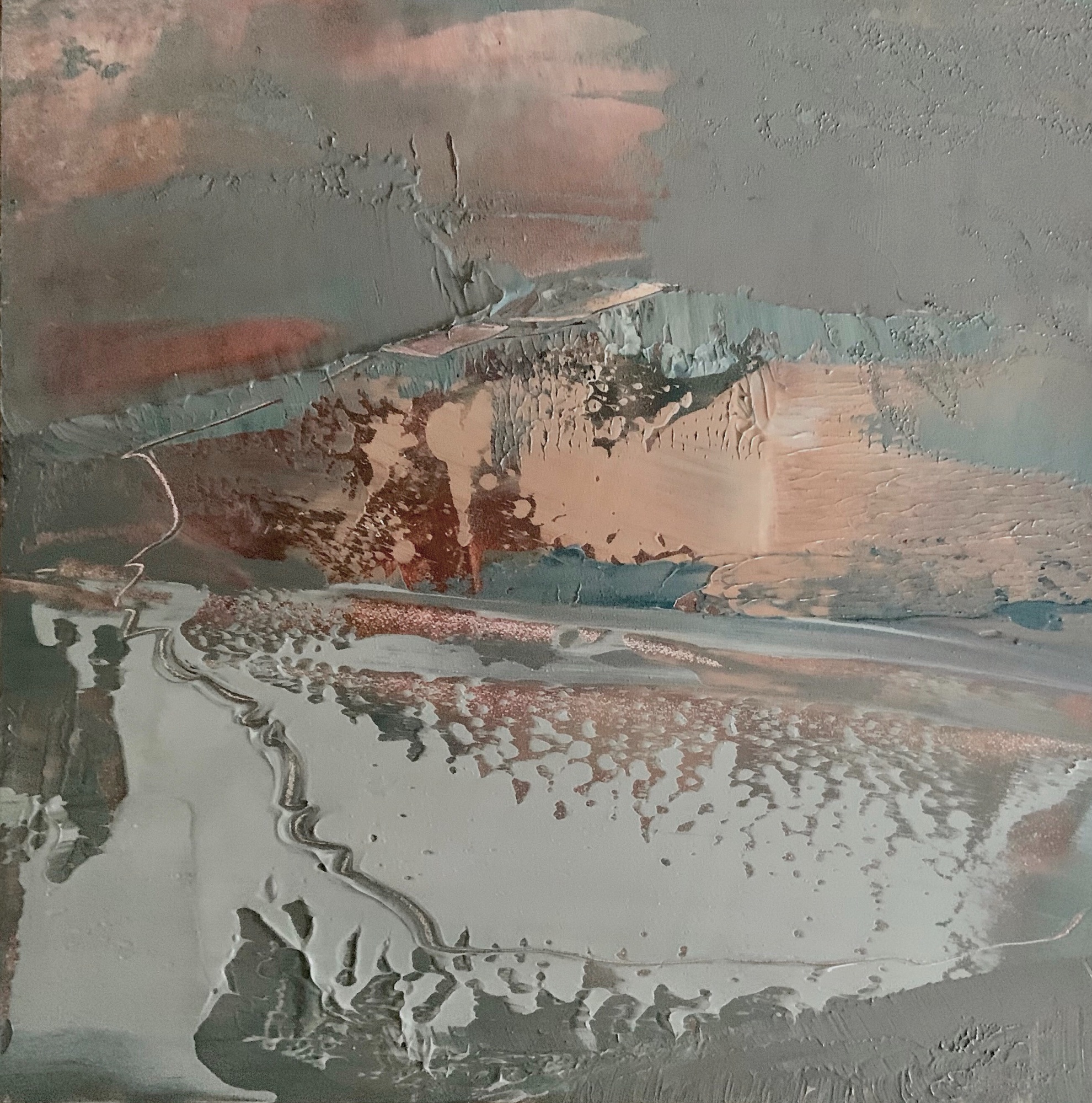 Now for a muted painting. This is a demonstration study using leftover colours on my palette.
I used an Ampersand gessoed smooth white panel and spread the oils randomly on the surface. Taking a rubber scraper I moved the paint around which revealed the lighter paint which had stained the panel. Seeing the paler part it looked like light in the sky. More paint was spread and the image was beginning to resemble a landscape.
My intention is always to stay away from total reality, preferring an abstracted atmospheric feeling. I like the viewer to find their own sense of place without giving too many suggestions.
I have titled it 'Unforgotten' and it is small...8 x 8 inches. Now in a new home.
'Entrance'...a demonstration piece which I messed up and reworked. I like it. It has a mysterious feeling. Possibly a landscape? You decide.
Another 8 x 8 inch Ampersand panel. Now in a new home.
'First Sight'.

Oils and cold wax on paper mounted an 8 x 8 inch cradled wood panel. It has been reworked several times. Parts of the history are visible through the many layers.
I think it has a coastal feeling...possibly ebbtide and marshes.

To read my other pages, click
Copyright on all my paintings and gifts
Copyright ©️ Anne Wood 2021