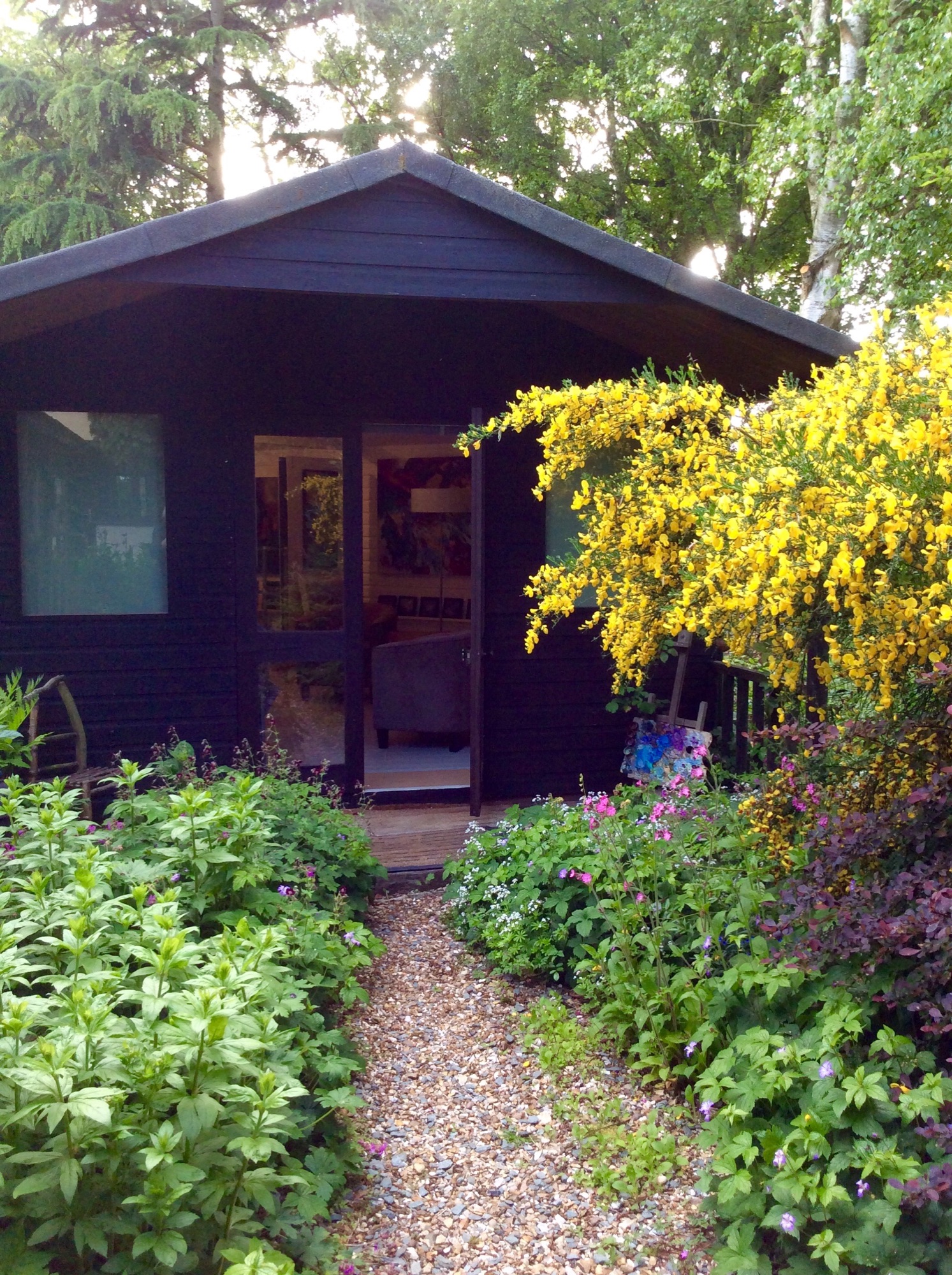 WILD AT HEART STUDIO...
This is my workplace….a timber cabin set in a wild garden in rural Lincolnshire.
My oil paintings are made in here…
My studio has space for finished paintings to hang on the walls. I like to have them around me when I work. They can be a source of inspiration for a new piece especially if I am working in a series.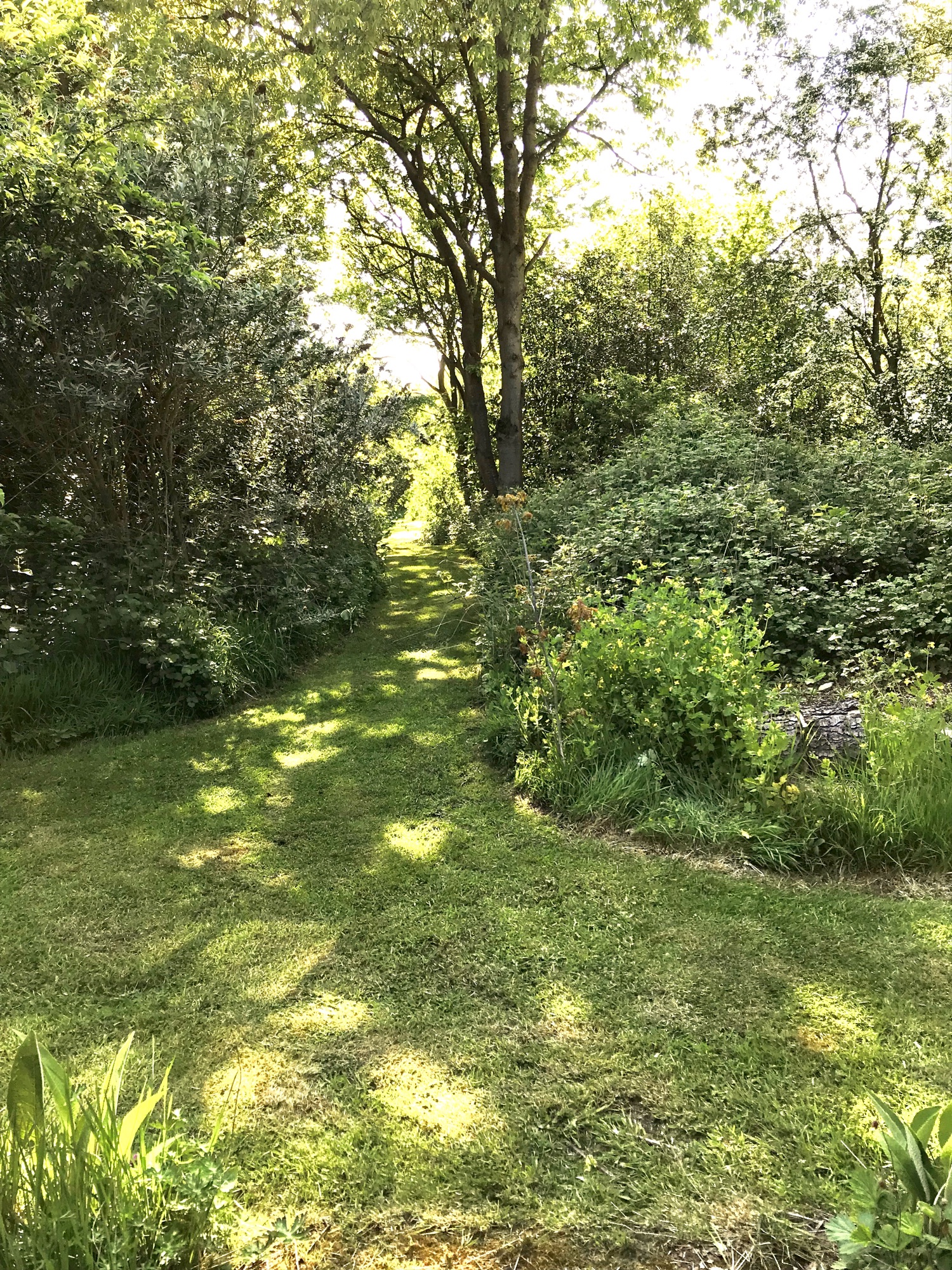 A view from my studio door...
Dappled sunlight through the trees and a mown grass path leading to the wild garden.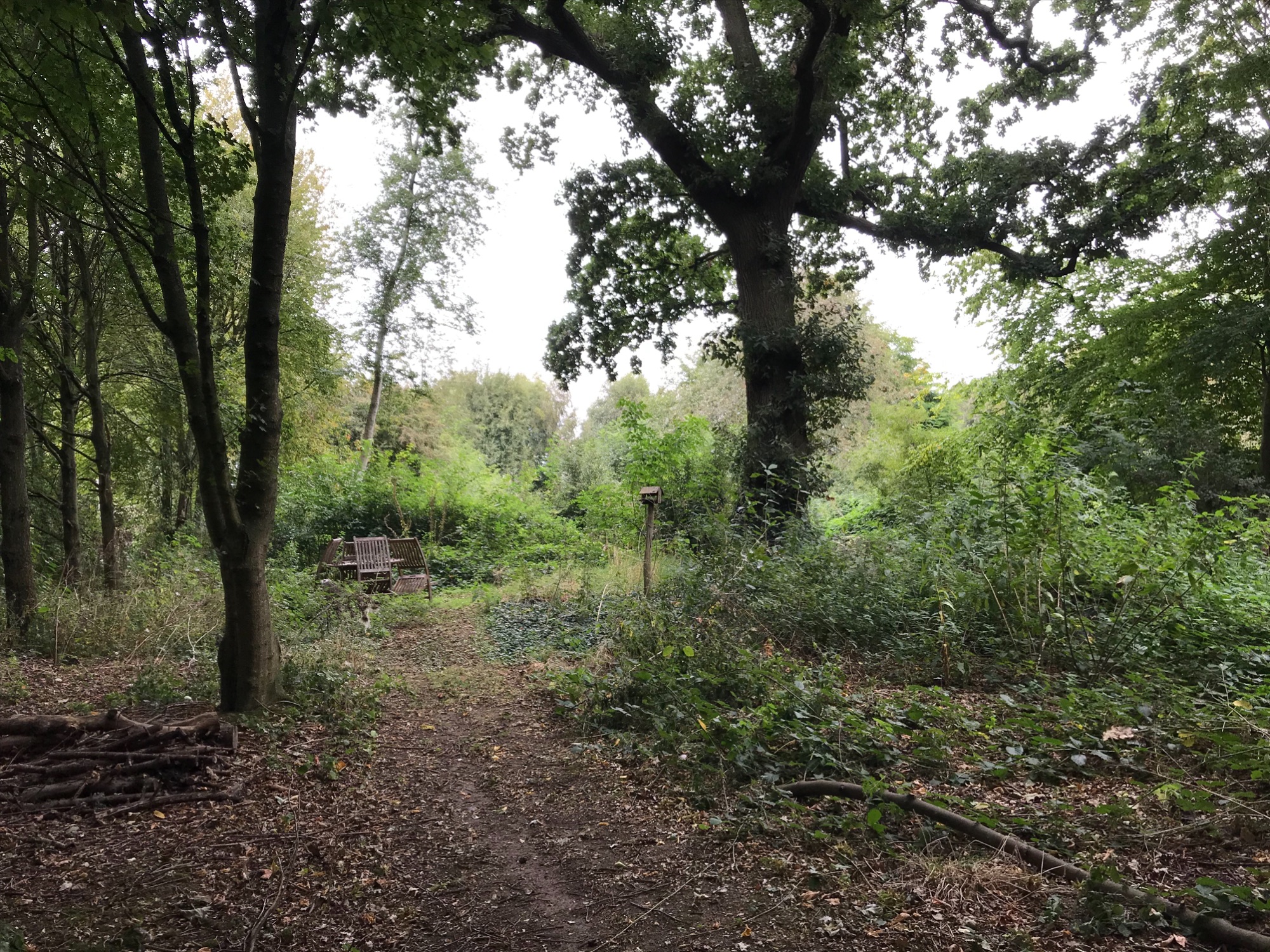 A quiet place in my wild garden
The majestic Oak is 160 years old...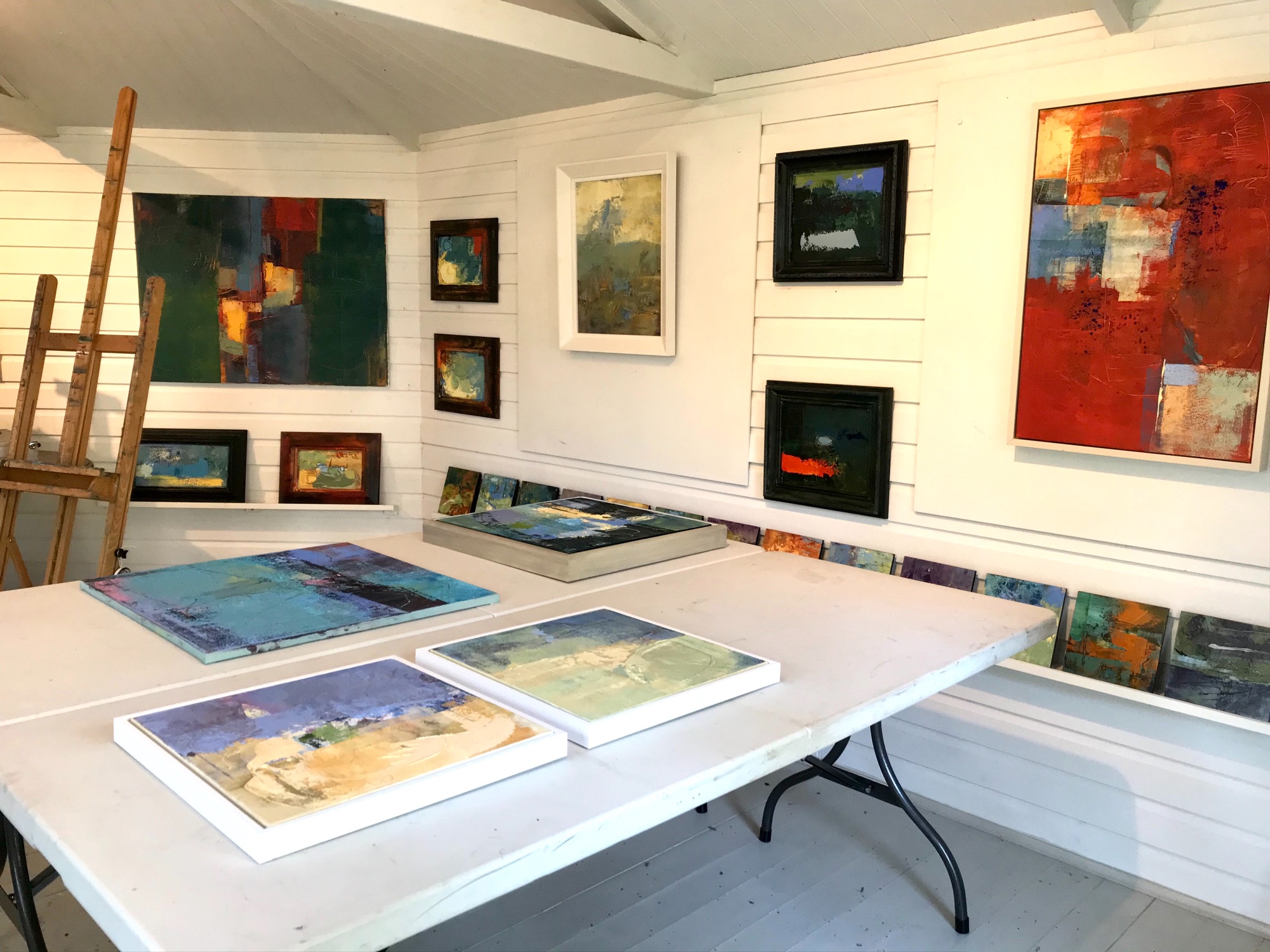 STUDIO WORK
New paintings 'resting' in my workspace...
Preparing a group of pictures for exhibitions.
The tables are also used for oil painting workshops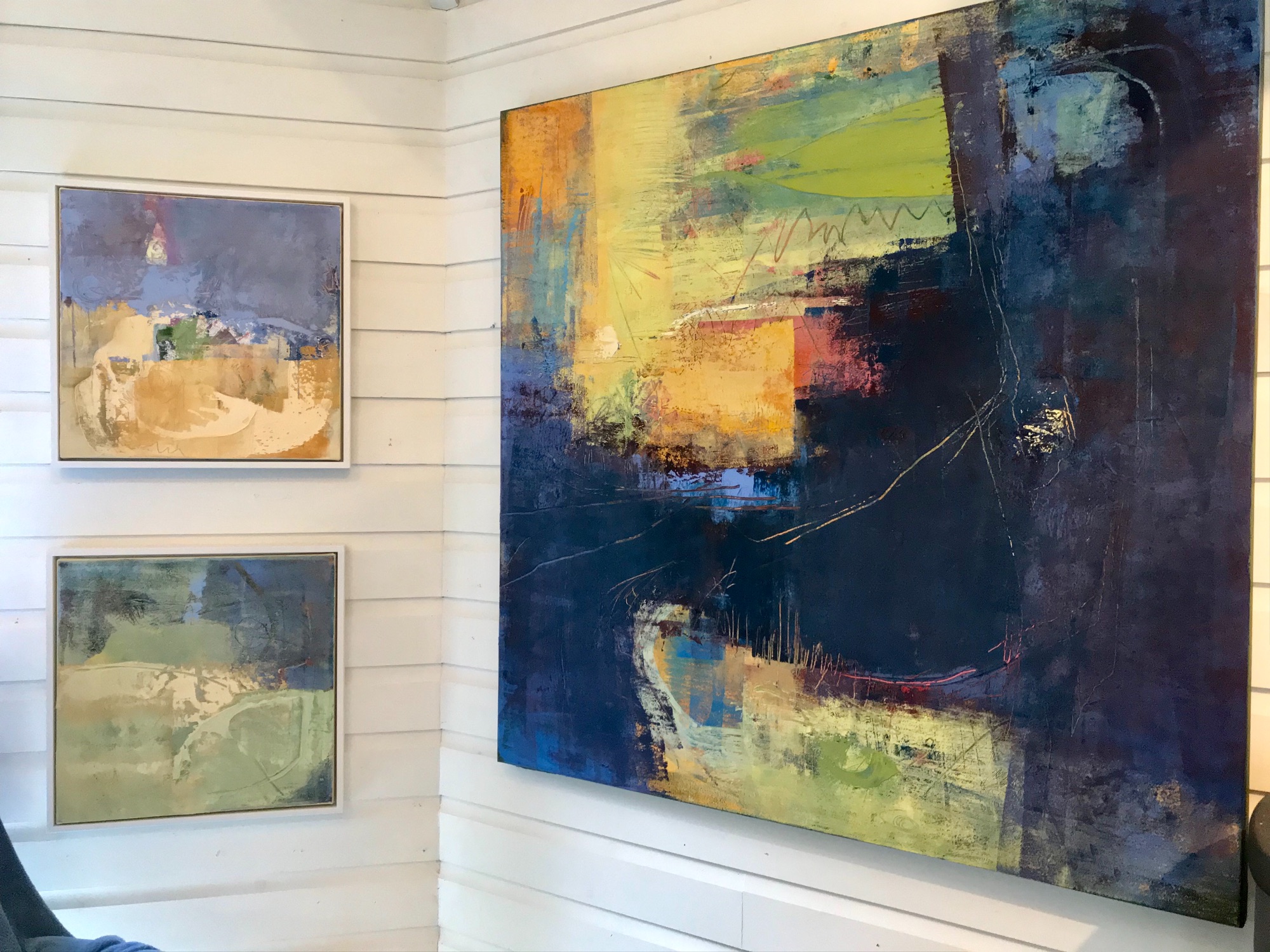 Three recently finished pieces as a group hanging in the studio.
These are about the landscape around me...
Another corner in my studio...
A painting in progress... Reminiscent of tracks and trails with fields and ponds.
I love working with oils to make colourful pictures. The process of moving paint around is, for me, an exciting occupation.
My technique is one of creation-destruction-creation as I gradually tease out a finished piece of work. Often a painting will evolve into something far away from the beginning.
I use Artist Quality Oils. Sometimes I mix them together with Cold Wax Medium. I love the way the wax moves as I sculpt the oils with a brush or knife, squeegees and brayers. Making many layers and scraping back reveals colour below rather like archeology. The worn textured appearance is exciting.
Cold Wax medium adds translucency and texture to the surface. It dries with a matte finish.
Paintings are mostly put aside to dry before continuing with the process. They can take many weeks to make and are finished when I feel happy with composition and colour harmony.
To see my working process...
click on this picture...
Copyright on my oil paintings and designs on cards and gifts
Anne Wood ©️ 2020