'New Day'...an acrylic painting on paper from my 'Small is ok!' collection
Hello,
I am Anne Wood, a painter in Lincolnshire.

My Wild at Heart Studio is set in the wild garden where I have lived for 48 years and I have a love of painting and wild gardening.

Welcome to my website 'WILDARTDESIGNS'.

The name is a mix of my Studio name, Wild at Heart and also the abstract paintings I make here. I hope you will take a look to find out how I work and to see the new pieces as well as some of my own favourites from my collection.
The pages here will describe how I make my paintings and also include some acrylic work and oil work available for sale.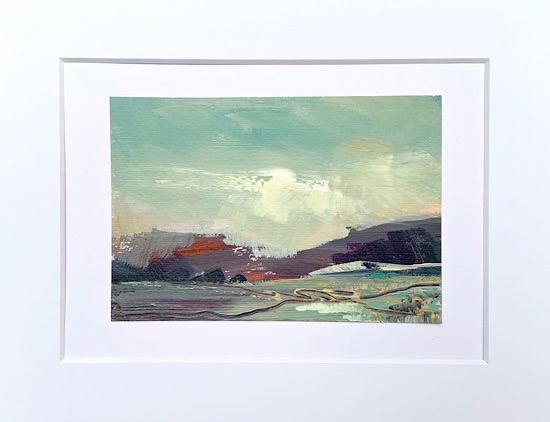 The theme for my 2022 acrylic work is 'Small is ok!'
I have a new series of small acrylic pieces on paper and board. A few are purely abstract and others are abstracted landscapes which reflect my love of wild places.
'Marsh Evening'… acrylic on 10 x 10 inch Ampersand panel. A new painting ready for framing. Memories of the Lincolnshire marshes at low tide. £ 75 unframed
'A day to remember'
Acrylics on 12 x 12 x 2 inch cradled wood panel
Deep edge, painted. Ready to hang.
£ 300
A new acrylic painting...
Above is 'Wild and free', a 20 x 20 x 2 inch cradled wood panel with Golden acrylics. This piece was painted in response to my love of wild places. There is a sense of freedom and peace. The picture is ready to hang or just lean somewhere unframed with the sides painted off-white.

£ 500

'Shore'....a new acrylic painting on 24 x 24 x 2 inch cradled wood panel.
An atmospheric abstracted seascape.
This picture will be framed.
I have several oil paintings in my studio...
To read my other pages, click
Copyright on my oil and acrylic paintings and designs for cards and gifts
Anne Wood ©️ 2022