Thank you for visiting...and welcome to Wild at Heart Studio in rural Lincolnshire where I make my oil paintings.
Over 22 years my work has been on a journey from realism to abstract and somewhere in between.
Remaining 'beyond reality', I like my oil paintings to show their journey through the painting process.
~~~~
I am a member of the Lincolnshire Artists' Society and the Nadin Group and have had selected paintings in their Group Shows with four awards for my art.
I also exhibit my work in Solo Shows and online. My paintings are now in private collections around the world.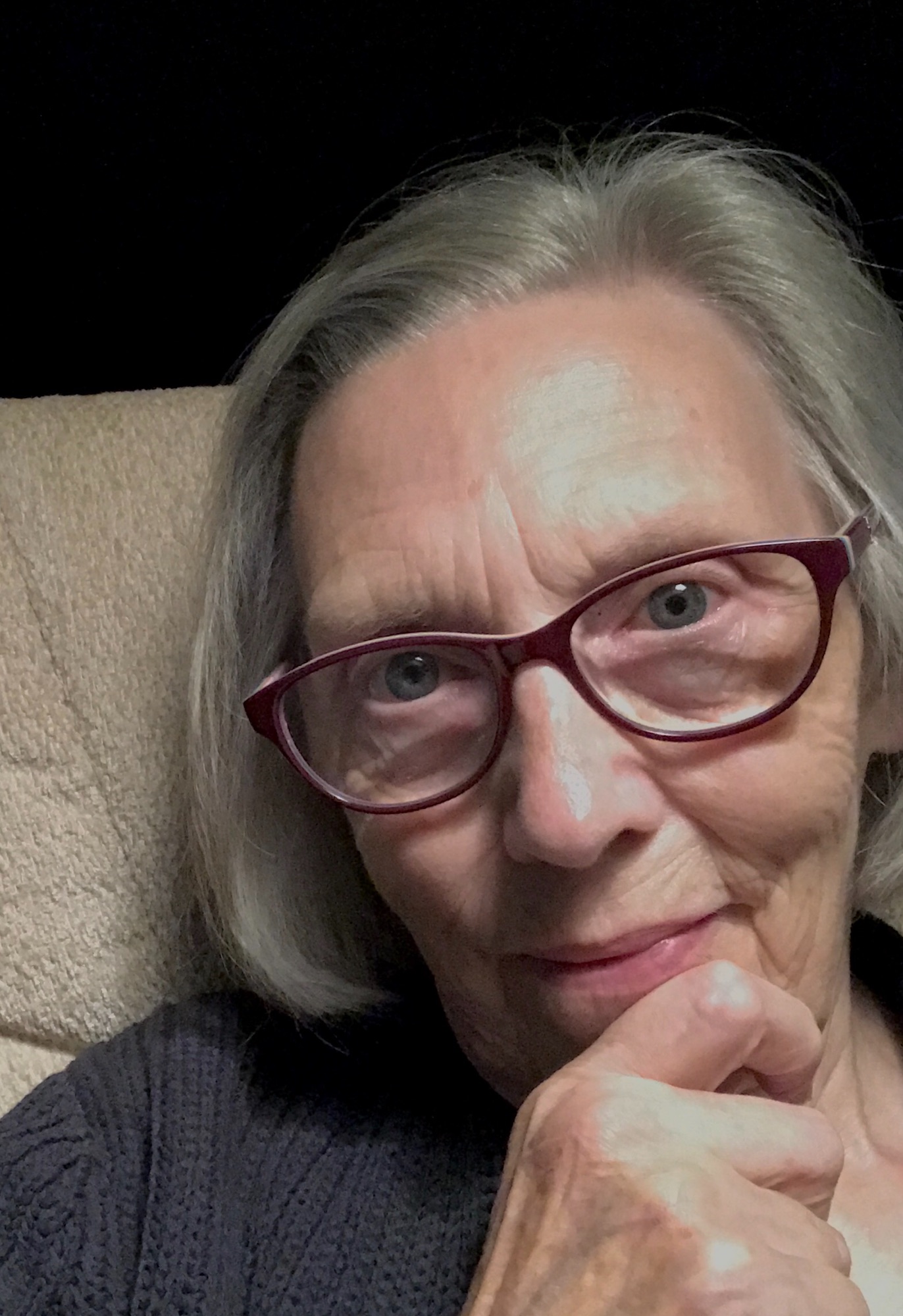 Thank you for visiting my website
I enjoy sharing my painting world with you.
Here is the verandah at the studio on a warm summer day.
A little coppiced wood chair made in 2001 sits beside the door.
NEW FOR 2020...WILD AT HEART STUDIO OPEN DAYS
An opportunity to see the art created in my Studio
Small pieces...Cards and gifts
Larger paintings


CHANGE OF PLAN - I SHALL DELAY MY OPEN STUDIO DUE TO THE CORONA VIRUS - MORE NEWS LATER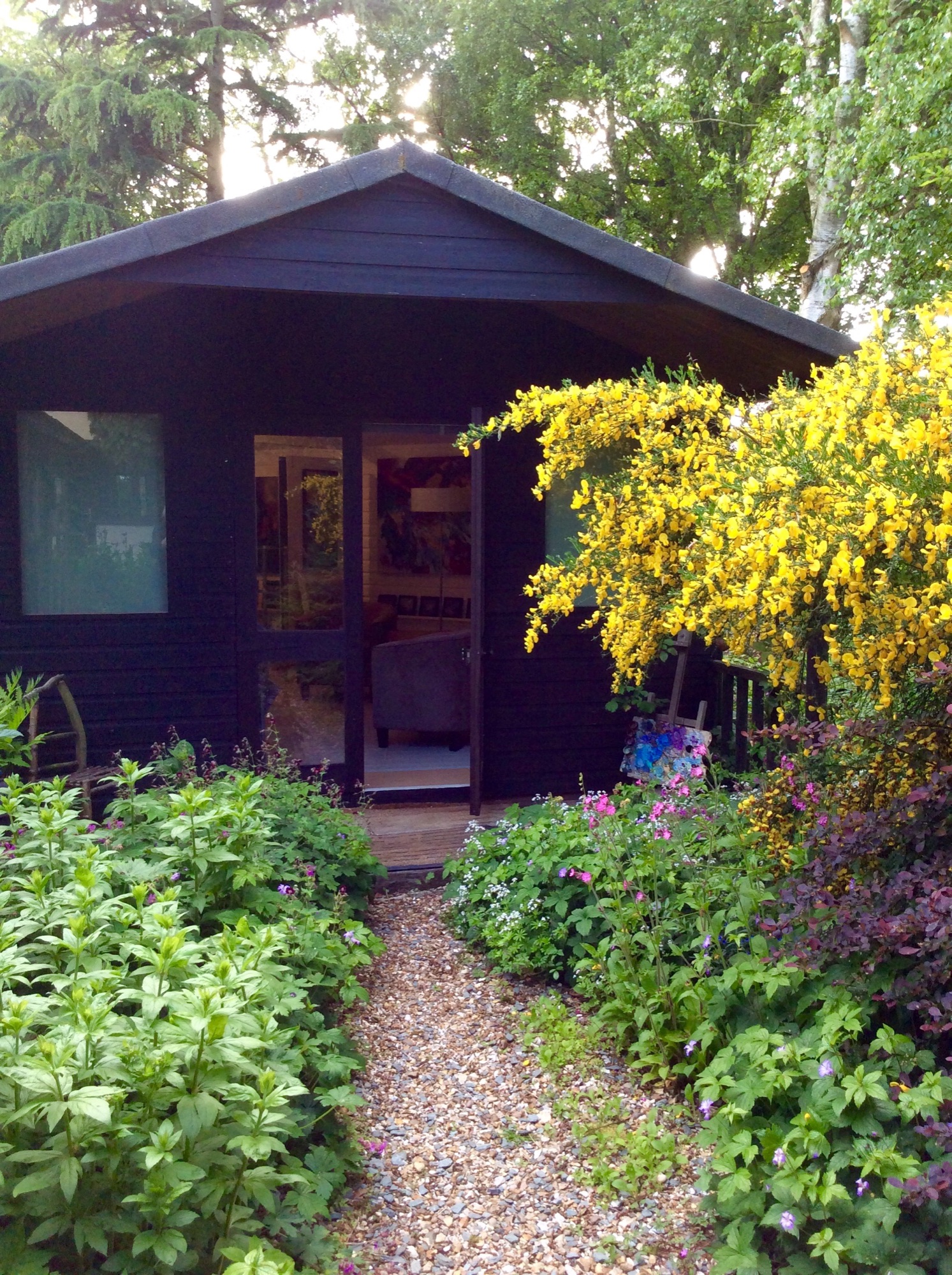 Wild at Heart Studio and Workshop
Green Acres, Broxholme,
Nr Lincoln LN1 2NG
WILD AT HEART STUDIO MUSINGS.....

TELLING A STORY OF
CREATION - DESTRUCTION - CREATION
Here are some recent paintings created or reworked in my Wild at Heart Studio...

'Meet me where the wild grass grows'
A challenging piece which has taken several directions.
Drying now in my studio
Oils and cold wax medium on 30 x 30 inch box canvas
(Entered for a group 'virtual' show)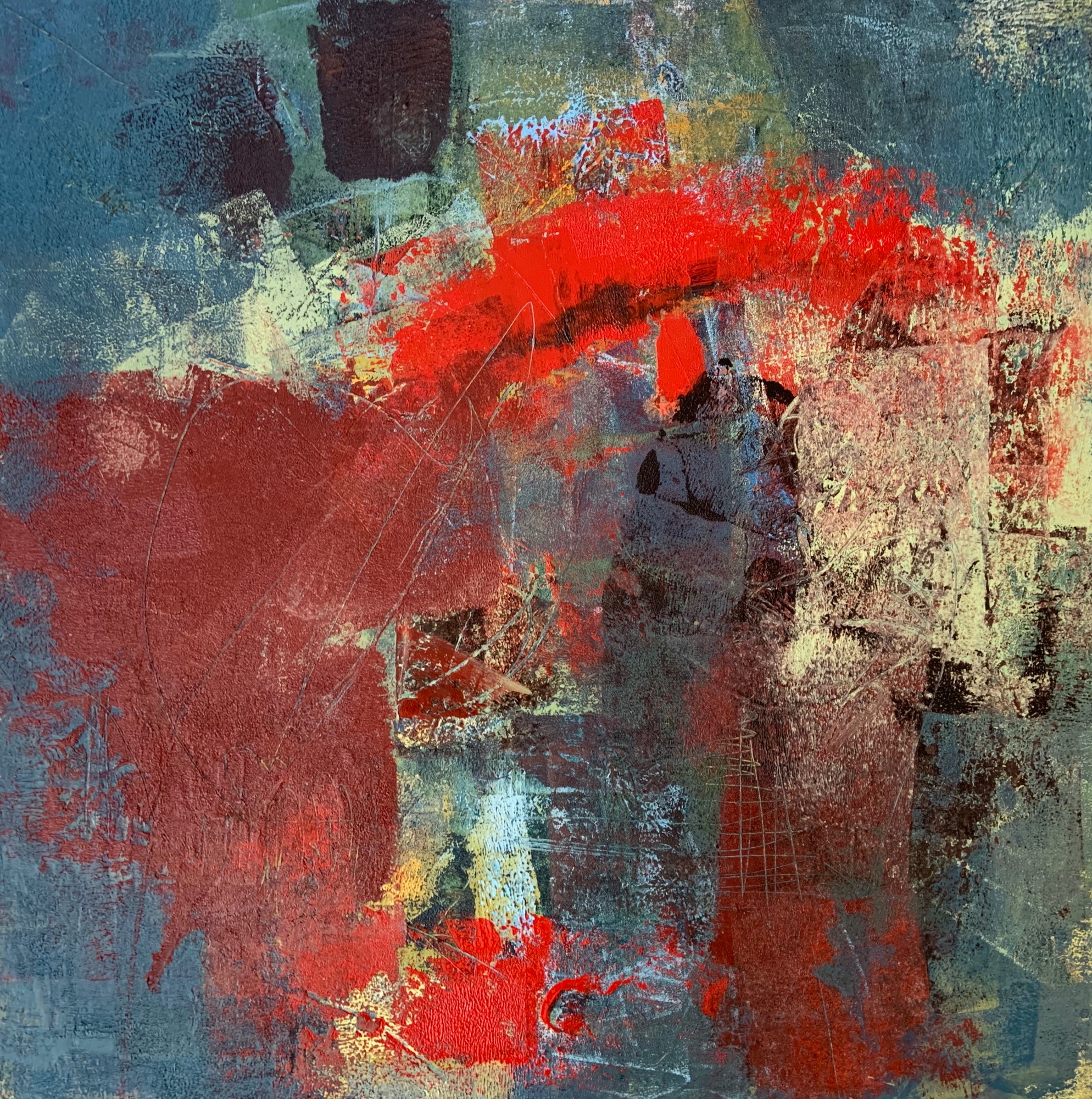 'Pass the red around'
After a battle with this painting I finally reached a stage where it is ready to dry.
Oils and Cold Wax Medium on 36 x 36 inch box canvas
(Entered for a group 'virtual' show)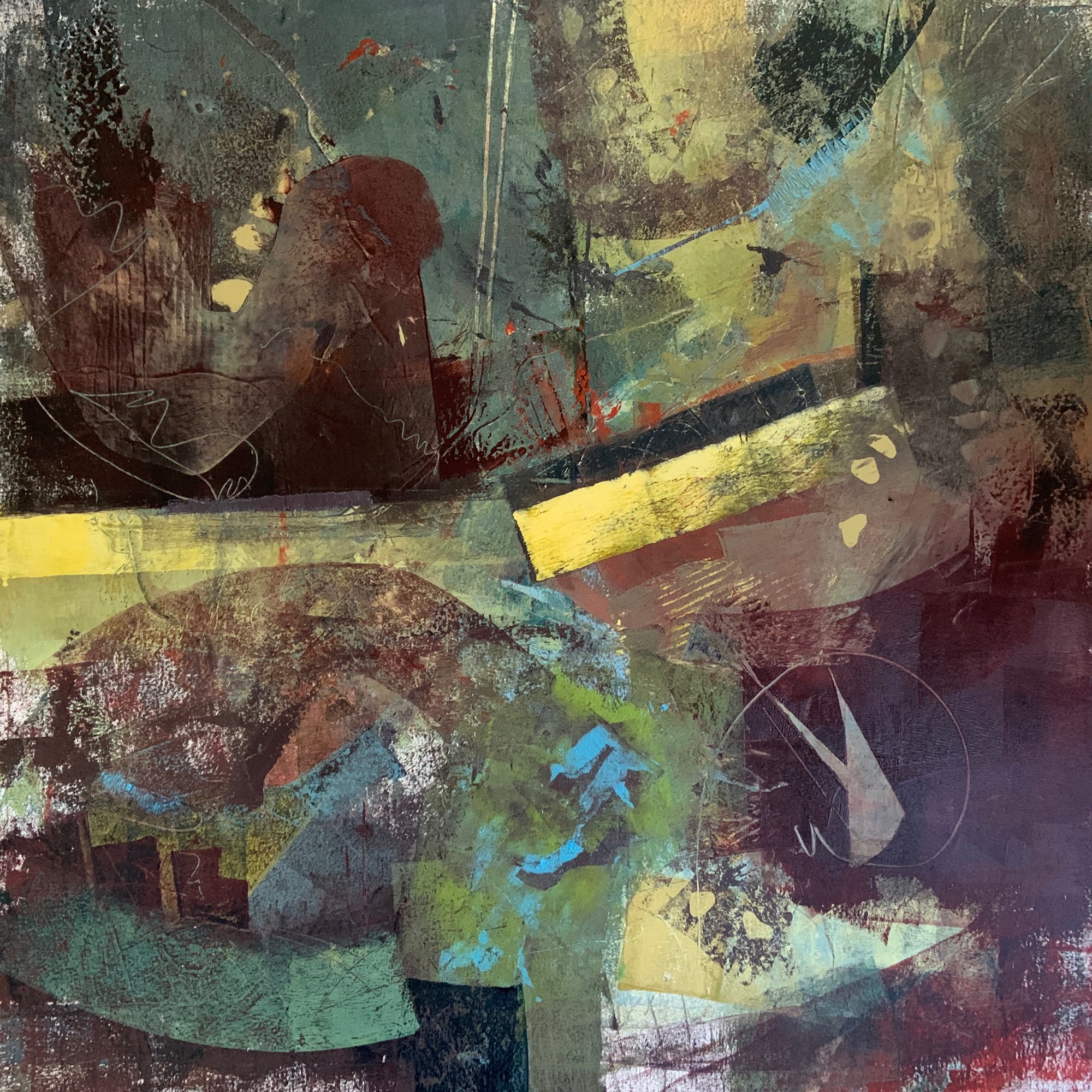 'Crossing borders'
A new painting drying.
I am so thrilled with this one, made from a very limited palette as my paint stocks are nearly depleted. Time to order more.
Pure abstract shapes in oils and cold wax medium on a 100 x 100 cm box canvas.

(I shall keep this one in my studio)

'Safe Passage'
Oils and cold wax medium on 36 x 48 inch canvas.

(Hanging in my studio)
'Unseen Journeys'
A new painting about shapes in the urban landscape
Oils on 16 x 20 inch canvas
Now drying in the studio.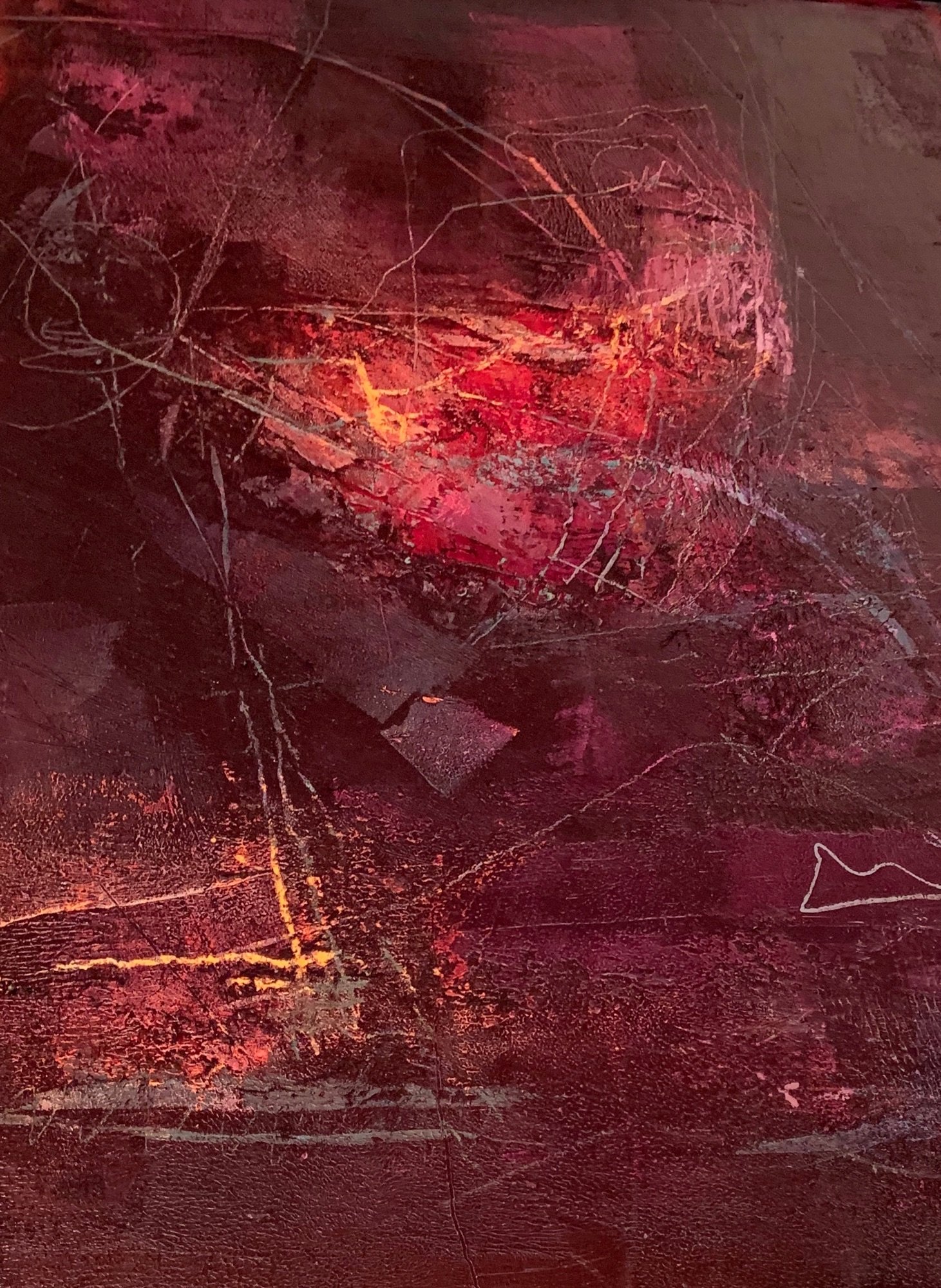 'Red with Scribbles'
A picture paints a thousand words...
When I stand in front of this painting,
my immediate response is simply
to wrap it around me.
I do not wish to translate the scribbles,
or understand the scratches.
The painting just 'is'.
Oils and cold wax medium on
36 x 24 inch board.

(This painting is kept in my studio)
Copyright on my oil paintings and designs for cards and gifts
Anne Wood ©️ 2020